Tomorrow (Monday) night @ Beat Research, we're happy to host Boston's mashup maestro, DJ BC —
BC's been cooking up mashed potatoes for years now, garnering international notoriety with such concept albums as the Beastles, Glassbreaks, Wu-Orleans, and other improbable partners.
Although the heyday of the mashup has seemingly passed, with the idea still ubiquitous (if absorbed back into remix culture), BC never fails to surprise me with some new concoctions. Holding aloft the A+B torch, he and his longtime partner-in-mash, Lenlow, just debuted Boston's own Bootie franchise.
Moreover, BC's been putting his remix skills to use of late, mashing up local punk/ska band, Big D and the Kids Table with a bunch of acapellas from my own Boston Jerk for a new release, Strictly Mixed and Mashed, which has been burning up the reggae charts on Amazon and iTunes. It even got boingboinged.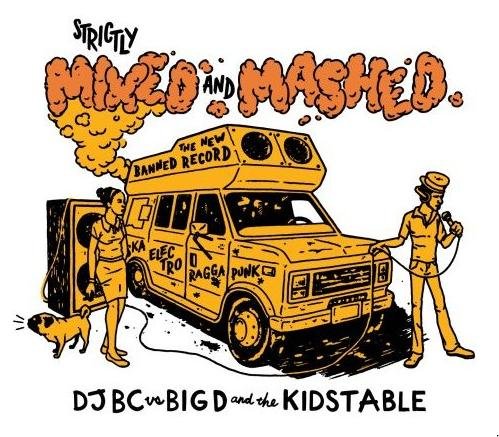 Here's a track with me rappin to a beat I never rapped to. Watch me, rude boy —
DJ BC vs. Big D + W&W, "Oo Yah Dood (Boston Jerk)"
[audio:http://wayneandwax.com/wp/audio/OoYahDood.mp3]
Who knows what kind of mashy goods he'll bring to the tables tomorrow. Should be fun, regahdless —